by Sandi Friel
When the time finally came to replace the ailing Channel Road Bridge in Deer Harbor, San Juan County took the high road.
Instead of top-down decision-making, County Councilman Rick Hughes encouraged Public Works to reach out to the community and let the residents guide the aesthetics of the bridge. This engagement process added a year in planning, but resulted in citizens taking ownership and pride in a bridge that they, in a sense, helped build.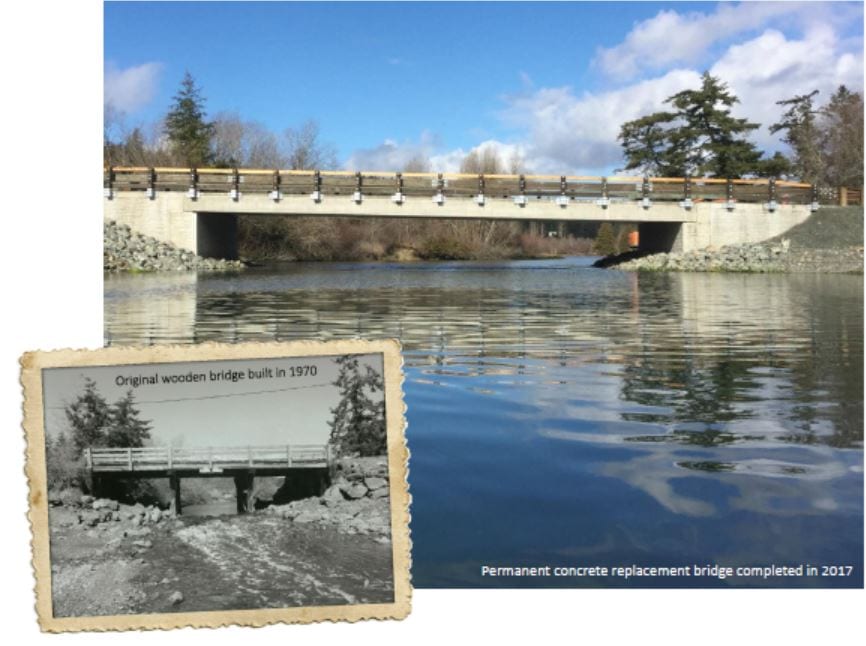 Providing the sole access for hundreds of residents on the southwest side of Orcas Island (including yours truly), the Channel Road Bridge crosses the inlet to Cayou Lagoon. The old 52-foot-long timber bridge not only had a deteriorated structure, it was built using excessive fill that reduced the natural channel width by 50 percent, constricting tidal flow in and out of the lagoon. After nearly five decades, the lagoon was literally choking to death with buildup of fine sediment and resulting poor water quality.
The new concrete bridge is 80 feet long and restores natural tidal flows which, over time, is expected to reduce sediment accumulation and increase habitat for juvenile salmon, forage fish, shellfish and shorebirds.
The bridge was also designed with an increased width to allow pedestrians to safely cross as well as pause and enjoy the views and wildlife.
Public Outreach
County Engineer Colin Huntemer held numerous meetings at the Deer Harbor Community Club to present possible designs and get feedback. He credits the citizen-based Deer Harbor Plan Review Committee for playing an essential role in the entire process.
The community input included selecting the color/pattern of the stamped concrete supporting walls and a unique style of timber guardrail that pays homage to the old timber bridge.
Once construction began, County Engineer John Van Lund sent out a weekly update highlighting the prior week's accomplishments and letting us know the next steps, including any required closures or traffic delays.
When I contacted John over the Christmas holidays to ask that the expanding potholes get fixed, the holes were filled the NEXT DAY.
Residents were so thrilled with the community engagement and construction process, some brought the workers cookies and sent letters of thanks.
With the bridge now complete, we can enjoy safe passage for cars, pedestrians and our finned friends. Kudos to the Public Works staff for setting a shining example of how government can work in partnership with the people.