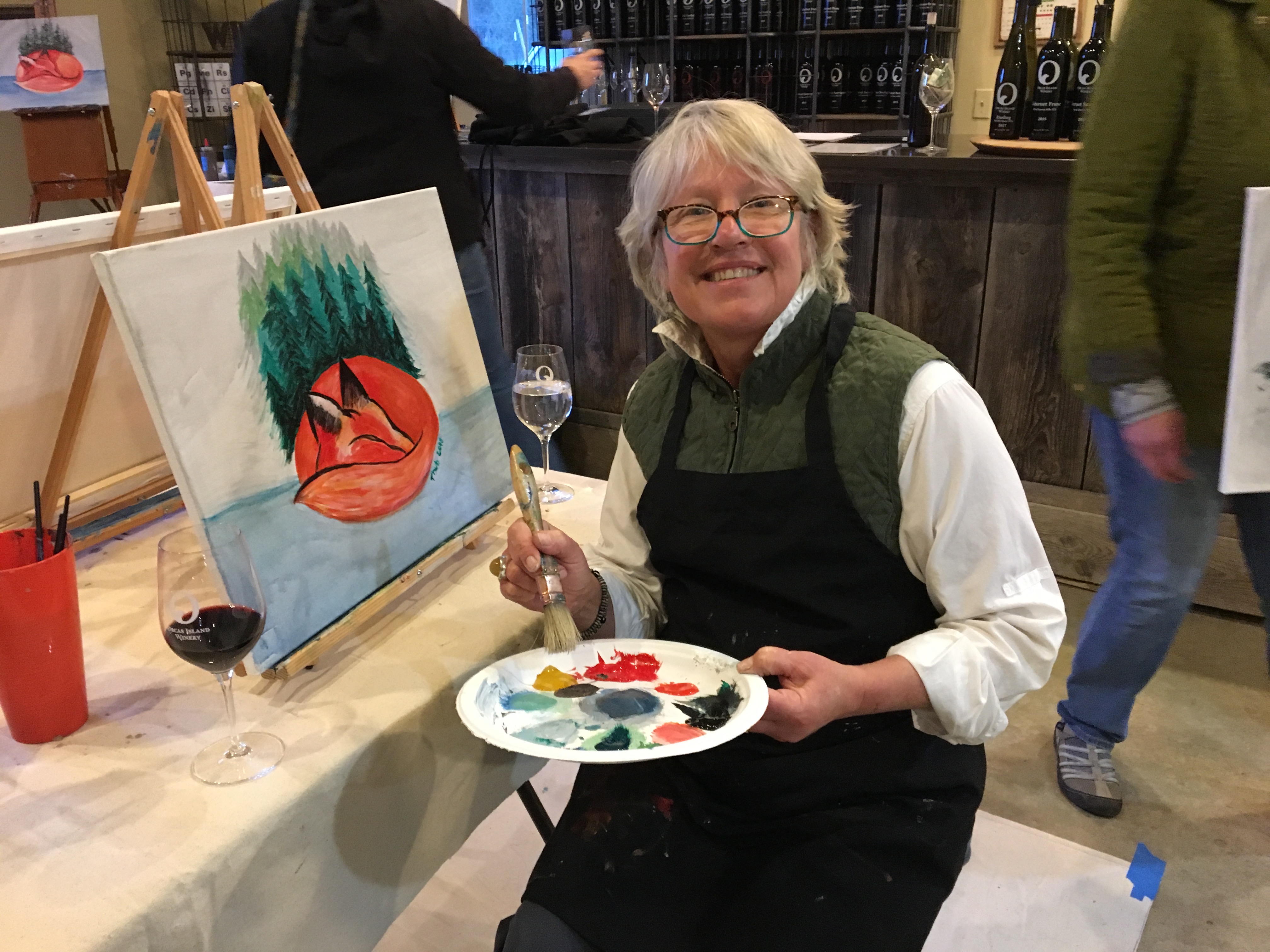 By Teri Williams
Finding the artist within myself is not an easy task. Oh sure, I buy all the gear. Every color of paint, all the shapes and sized of brushes, pens, pencils. Canvas and sketch pad ready for creating. I'm equipped and ready!
Now if I could just sit down and give myself time. Time to be silly and creative. Time to just do without over-thinking. Time to let perfection go. Time to serve myself and not the thoughts of others who want to critique my imagination. I have to find my imagination!! No…. I want and need to find my imagination and play with it.
I could get bogged down by the REAL artists who are living and thriving on Orcas Island. The talent we see every day is a gift. However, I also recognize that I am a REAL artist, too, if I just let it be and have fun. Creativity and fun is worth more to the soul than notoriety and money. So a few times a year I sign up for a class offered here on Orcas by local artists.
This year I have enjoyed two classes.
The first was a drawing class with Caroline Buchanan. Caroline not only makes ink and pen come alive on a sketch pad, she is known for her watercolors. I have taken her watercolor classes in the past. If you get a chance, do not miss time with her in a class. She has a way of igniting inner creativity no matter how much you fight it.
I was lucky enough to catch the last two days of a week-long drawing class she offered in Olga. Olga is a welcoming hamlet where you feel you have stepped back in time to a place that has time for everything. A place for me to stop my mind from spinning, leave my "to-do" list behind and just be with my sketch pad and pens. Here I share her style and teachings.
Caroline is currently showing her work in the Orcas Island Library. Learn more about Caroline and the classes she offers through her website buchananwatercolors.com.
The second class was a painting class with Rachel Orr at the Orcas Island Winery.
I have been hearing tales of a class being taught at the Orcas Island Winery … YES … wine and art. Now that's my kind of class. I'm sure I can be creative with some vino encouragement!
Rachel Orr, Island Artflow, offers pop-up painting classes and will come to your home or event to put this colorful fun creative experience together for you. Or, you can sign up for one of her monthly wine and painting classes held at the Orcas Island Winery. My daughter-in-law, Monee Harrington, and I are in!
Each class has a different scene, animal or thing to paint, step by step. Easy! Fun! The small group setting was welcoming, and gave me a chance to see some islanders I had not seen in many years. We've all been too busy to stop and have fun. This class was short (2 hours), all the materials needed were provided along with your choice of the local wine. I enjoyed a glass of the Turtleback Red Blend. The subject was a fox lying in front of a forested island. There was much conversation, many giggles, a feeling of togetherness, encouragement and acceptance.
What started off as a big orange circle soon took shape and character with some paint strokes and purposefully placed shadows and outlines. The commitment for one of Rachel's classes is minimal, so if you are on the fence about making time for creativity, check out her class!